Google violating its own policy?
Apr 7 2014 :: by Alex
Last month Google has finally released the new AdWords design for desktop search. They removed the shaded yellow box used to designate a paid search result. The ads are now marked with a gold "Ad" icon next to it. Making it virtually indistinguishable from the organic search results. I bet my mom wouldn't be able to tell the difference
You could say it's no big deal. I agree. After all, Google is not a charity. They are a private for-profit company and do whatever they want (although another private company is being sued all over the planet for monopoly... sorry, I'm going to shut up).
Right...
Just here's what I've found in Google's own AD policy:
Publishers may not implement Google ads in a manner that disguises the ads in any way. This includes formatting neighboring content to look similar to the ads.
They even provide an example picture of how things should NOT be done: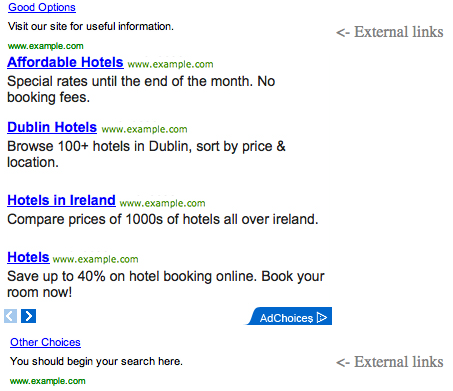 In their example the ads look even more "different" from the regular navigation, than on Google's own search page. But this is still considered a violation.

by Alex. CEO, founder