Pages that can be instantly improved for more search traffic

by Alex Yumashev · Updated Aug 14 2019
There are tons of "on-site" tactics you can work with to improve your website's organic traffic and conversions. Like A/B tests or even using on-site search data. I'd like to share another handy tactic today:
Finding "underperforming" pages
This is one of my favorite hacks. It's nothing new, by the way, Rand Fishkin has even mentioned it in one of his Whiteboard Fridays. The hack is finding pages that are loved by visitors, but aren't getting a lot of organic traffic. Pages with:
Low bounce-rates
High engagement
Low "% Exit"
High number of visits
But low search traffic
Typically this means the page hasn't been optimized for the right keywords, or hasn't been properly linked from other highly-ranked pages on your website, or hasn't been polished with H1-tags, titles and descriptions. But people still find it and enjoy it.
The "Good pages with low traffic" report
Here's how you find these pages in Google Analytis. Go to "Customization" - "New custom report" and set the following:
Name - "Good pages with low traffic".
Type - "Explorer"
Include "Pageviews", "Bounce Rate", "% Exit", "Entrances" into the "Metric groups"
Include "Page" into "Dimensions"
Here's what you should see: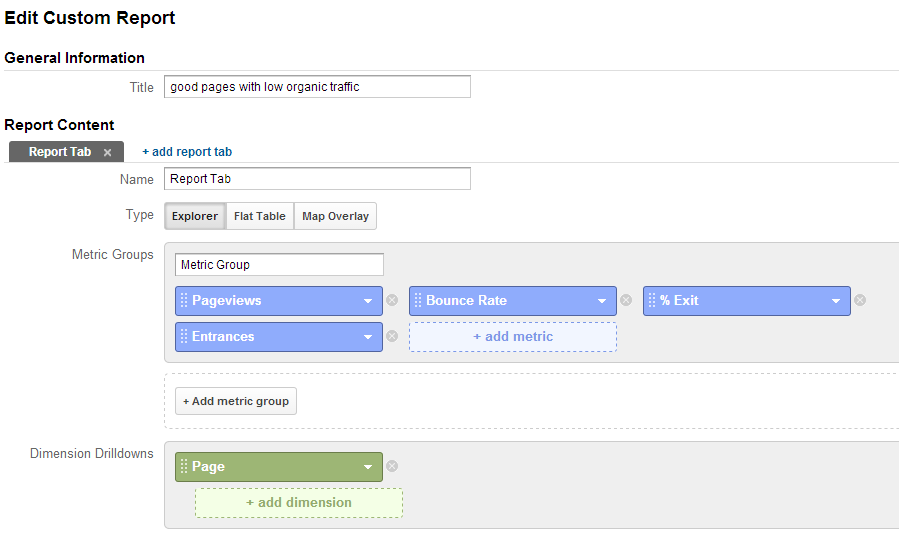 Unfortunately "custom report builder" cannot pre-set the advanced filters. So here's what you need to do - click "Save" (this will open the reportin for viewing) - click "advanced" next to the filter box - and set the filter to:
Entrances - less than 10
Pageviews - more than 60
% Exit - 30
Bounce rate - less than 15
Here's what you should see: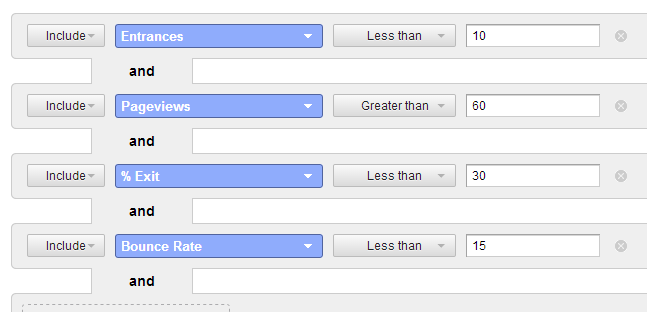 This report shows you pages with good bounce/exit rates and decent traffic but low entrance rates. By the way, make sure you've set up Google Ananlytics to log the "real" bounce rate like described in this article, not the default one.
You should play with the numbers a little bit to match your website's traffics and typical bounce/engagement rates. Also, if your website gets most of its traffic from "referrals" you might want to enable the Organic Search segment for this report (since "entrances" not necessarily means "search-engine entrances".