What is help desk software
Help desk software is a tool used by support members throughout the corporate space to respond to customer questions. It's usually not just one tool, but a combination of many that support technicians use to manage all incoming queries.
You see, customers will always have questions. It doesn't matter whether it's about a new feature or technical troubleshooting, customers will reach out if they want you to supply an answer. So in order to make sure support teams have everything they need to manage all of these incoming queries successfully, they use help desk software. You can find more information about what help desk software is in our blog post, what is help desk software.
However, not all help desk software is created equal. Some are focused on the ease of customer experience, while others focus on establishing infrastructure for the support team. Some help desk software is a small part that integrates into a much bigger, overarching system, while others are standalone and give small support teams what they need for success.
In the end, the search for help desk software is a unique process. No two companies are exactly alike, and as such, no two help desk solutions will fit into the company the same way. If you are searching for help desk software, you want to pick the best software for your company.
That's why we put this list together. Help desk software that fits your company well will increase positive customer interactions and make your support team happier.
So what help desk software is right for you? Take a look at the best help desk software in 2020 and compare it for yourself.
Not quite sure what you should be looking for? Download our free guide to how to choose help desk software for insights into what factors to consider.
JitBit
Price: Starts at $29 a month (though you can get a discount if you sign up for annual billing)
JitBit Helpdesk is a simple, but powerful help desk software. It has no size limit - it works well with all company sizes. It offers both hosted and on-premise options so that you can have your help desk software the way that works best for your company.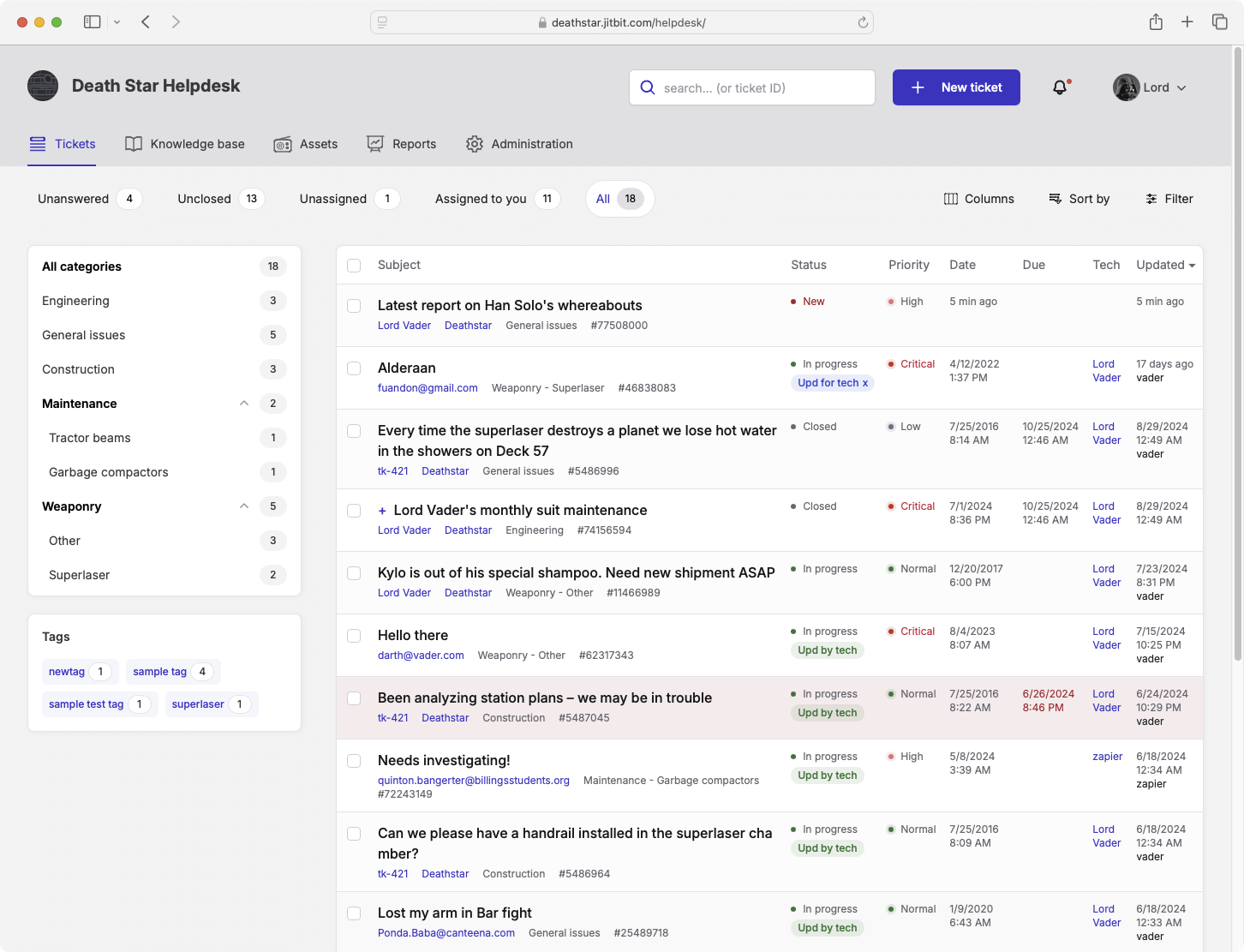 Highlighted Features
JitBit comes with free mobile apps for both iOS and Android, making sure that your support team has access to all the channels they need. It also gives you ticket automation, a team mailbox that can handle advanced reporting, bulk actions, and ticket-merging capabilities.
JitBit also has a handy feature that lets you easily insert knowledge base links and canned responses directly into your email. That way, your support team can focus on more complex issues, rather than thinking up new ways to say the same thing.
It also comes with 500+ integrations with popular software and an "ideas" forum where your users can submit their ideas for new features or fixes.
HelpScout
Price: Starts at $25 per user per month (though you can get a discount if you sign up for annual billing)
HelpScout is a help desk software that launched in 2011. Since then, they have grown to support over ten thousand support teams in many different countries. They claim to have no size limit - any company, big or small, can successfully integrate HelpScout into their support workflow.
HelpScout really focuses on the customer interface. It values the customer journey and makes it easy for them to navigate. It is set up in a way to boost internal team collaboration. However, because of this emphasis on team collaboration, HelpScout's structure and ticketing systems are not as defined. It doesn't have a dedicated customer-facing portal or ticket numbers. Instead, HelpDesk works mostly through personal email.
Highlighted Features
HelpScout has some awesome customer management features, like presenting customer data with a query and the ability to see who else on the support team is viewing or replying in real-time.
It also offers great mailbox management with the ability to automate repetitive tasks, like assigning emails to custom folders based on keywords or sending an email to the customer if it is tagged in a certain way.
Because of this attention to the customer, HelpScout focuses on email instead of ticket usage. While other help desk software create numbered tickets to help track the issue through the system, HelpScout takes a more personal approach.
HelpScout can also be integrated with 50+ popular software, from Slack to Jira to Salesforce.
Jira Service Desk
Price: Starts at a flat $10 a month for less than three team members
Jira Service Desk is Atlassian's contribution to the help desk software market. Since they already offer a widely-used project and issue tracking system called Jira Software, Jira Service Desk is often a natural choice for those who already use their software. Because it's designed by the same company, integration with existing Jira applications is painless. Additional functionality can be added when Jira Service Desk is paired with other Atlassian tools, like Confluence.
Highlighted Features
That's not the only reason that Jira Service Desk made it into our top help desk software of our 2020 list, though. It sports an array of features that any support team would be happy to have.
Jira Service Desk is a software that learns. With each incoming customer request, it's taking stock and learns the best answers to present. It will also suggest customer service templates, business processes, and automation rules.
If you use Jira Software's ticketing system, Jira Service Desk allows IT tickets to be linked to your development team's backlog, letting them know that something might be wrong.
Besides the benefits of integration with other Atlassian software, Jira Help Desk comes with SLA management and standard options for customers who want to try to solve the problem themselves. As a bonus, the software is also ITIL certified.
Salesforce Service Cloud
Price: Starts at $25 per user per month
Salesforce Service Cloud is a help desk software designed by the company behind the popular Salesforce sales software. If you are a large company that has already implemented the main Salesforce sales software, its integration can give your support technicians added insight into the customer. Salesforce's Service Cloud software comes with an out-of-the-box version, or, for an increased price, you can completely customize the CRM.
Highlighted Features
Salesforce Service Cloud equips every support technician with the productivity tools they need to enhance efficiency. It boasts easy integration with all of the most popular CTI (computer telephony integration), and can even use web services APIs like REST and SOAP (though it is reserved for the Enterprise and Unlimited tiers). CTI can help reduce the amount of time your support technicians need to spend on the phone with callers, not only making the customers happy, but also giving your support team more time to focus on complex problems.
Salesforce Service Cloud, created by the people behind one of the top sales software in the world, also offers cross-selling and upselling features that make it easier for your support technicians to figure out if another of your offerings could solve the customer problems. With opportunity tracking, task management, and contextual AI recommendations, your support team can not only support your customers, but also tap into an unexplored resource.
Zendesk Support
Price: $5 per user per month for Zendesk Support; $89 per agent per month for full Zendesk Suite
Zendesk offers a variety of help desk solutions, but some of them can be broken out into individual packages. For example, the Zendesk Support option gives support teams custom ticketing fields, mobile and web interfaces, SLA management, and multilingual support. Essentially, a ticketing system. In order to add live chat and messaging, you need to also subscribe to Zendesk Chat. For knowledge base implementation and other self-serve options, look to Zendesk Guide. For advanced reporting, there is Zendesk Explore.
Being able to pick and choose between Zendesk products is great, but the price tag can quickly add up. For those looking for more than the basic Zendesk Support package, they offer a bundle pack called Zendesk Suite that includes "Guide", "Chat", and "Talk".
Highlighted Features
Which features you get depends on the Zendesk software you choose. If you go with the Zendesk Suite package, you will get their ticketing system, with custom ticketing fields, skill-based routing, a guided mode that lines up tickets for your support technicians, and other features that will help your support technicians stay at the top of their game. The Zendesk Suite also gives you their knowledge base and self-serve features, live chatting and messaging, and integrated call-center software.
Zoho Desk
Price: Starts free for up to three users
Zoho Desk gives businesses the tools they need to come together across teams and improve productivity. Sporting "Zia," the nickname for their artificial intelligence unit that assists the support teams, Zoho offers a dependable help desk software with ticket management, self-serve options, and customization.
Highlighted Features
Zoho Desk offers automated tasks, live chat, and an AI to help with various tasks, like speaking to customers over a call, sharing contextual data, and auto-tagging. It also offers social media integration (so you can keep track of potential support situations all from the help desk interface). Zoho also offers a consolidated interface that holds all communication associated with a ticket in one tab, making it easy for your support agents to jump in and out as needed, without losing context.
Want to make sure you are checking all the boxes before settling on a help desk software? Download our free "How to Choose Help Desk Software" checklist.
How does the Best Help Desk Software Compare?
Now that we've gone through the overviews of the best help desk software in 2020, how do they measure up against each other?