All tickets at a glance
The main screen of our Helpdesk Ticketing System features a powerful grid-view showing all the information about your current tickets. You can easily sort and filter through tickets, review the current statistics and even make bulk changes to tickets without leaving the page. Different view modes let you switch between all, in progress and unanswered tickets. You can also view just the tickets that are assigned to you, tickets from specific company, customer etc.
Whether you are a helpdesk "agent", an administrator or a "manager", the grid easily adjusts to your current needs. This is the screen you're going to look at for the most part of your work day, so we spent years constantly improving it.

Everything is neatly organized
Everything related to a ticket is on a single page: the entire conversation, attachments, internal communications and other activity etc. You no longer need to dig through your support mailbox to look for that email you got from a customer a week ago.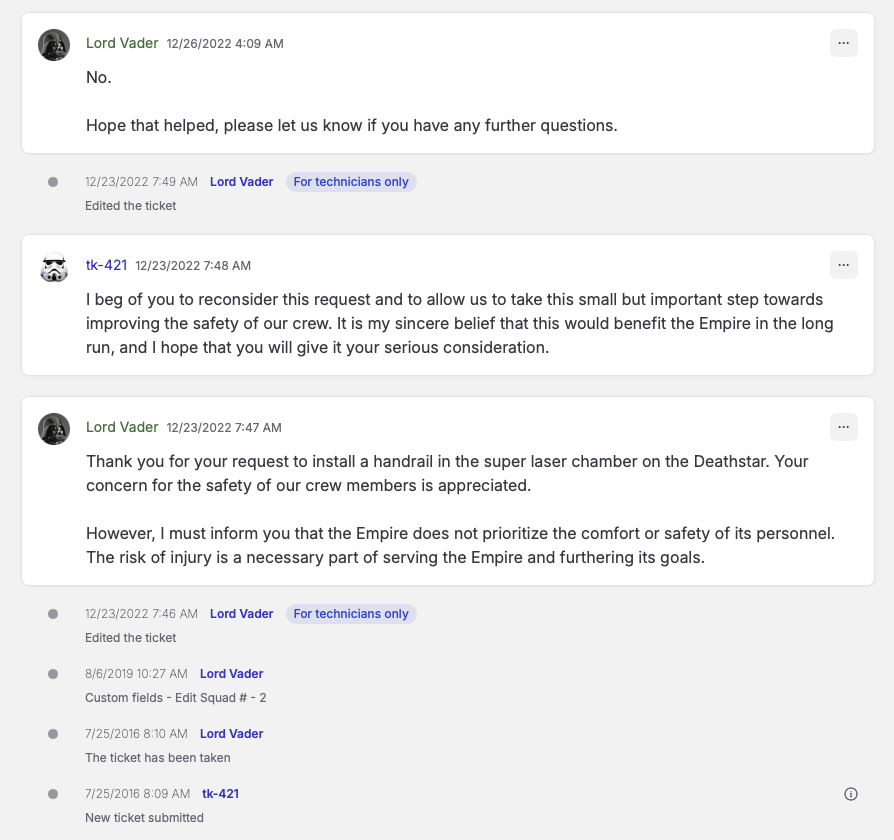 All the features you need. When you need them.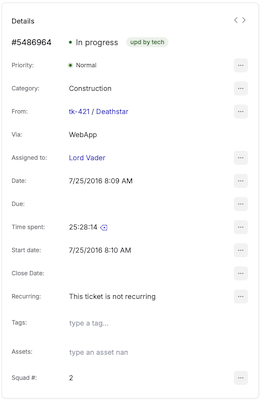 We know that it is hard to stay on top of your game when dealing with hundreds of tickets daily. Jitbit ticketing software is not just another thing on top of everything else you've got to deal with. It is designed to make your life easier without adding more complications.
We have all the features you may need from a helpdesk ticketing software – two-way email integration, file attachments, powerful search, knowledge base and much much more. But the best part is, if you don't need a feature, you probably won't even see it and it won't stand in your way.
Categories & Tags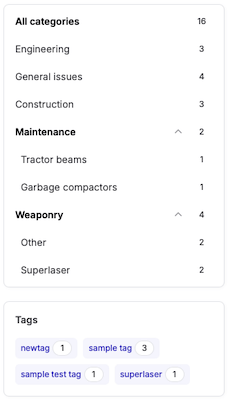 There is a lot more than writing replies to customers during a typical customer support agent work day. We need to move tickets around, merge and link them together, search for them etc. We probably spend half of our day doing all those things.
In Jitbit Helpdesk tickets belong to categories – this is our main feature to help you organize things up a little. You can distribute tickets across categories manually, make customers to choose a category when submitting a ticket or do it automatically via Automation Rules (see below). Categories give you many additional benefits you can assign team members to specific categories, build reports using only the data you need, easily search tickets and much more
You can also add tags to ticket. A ticket can have multiple tags assigned – you can use them in addition to categories. To give you an example we add the "feature request" tag to easily find all the ongoing feature requests.
Reports
Our Reports make it easy to keep an eye on your team performance. Jitbit Helpdesk has a set of built-in reports that will give you insights about various things and a "custom report" tool that lets you build your own reports quickly.

Automation Rules
Wouldn't it be nice to minimize the routine in our jobs? Very popular with our power users, Automation Rules is a very powerful feature that lets you automate the most boring parts of your job.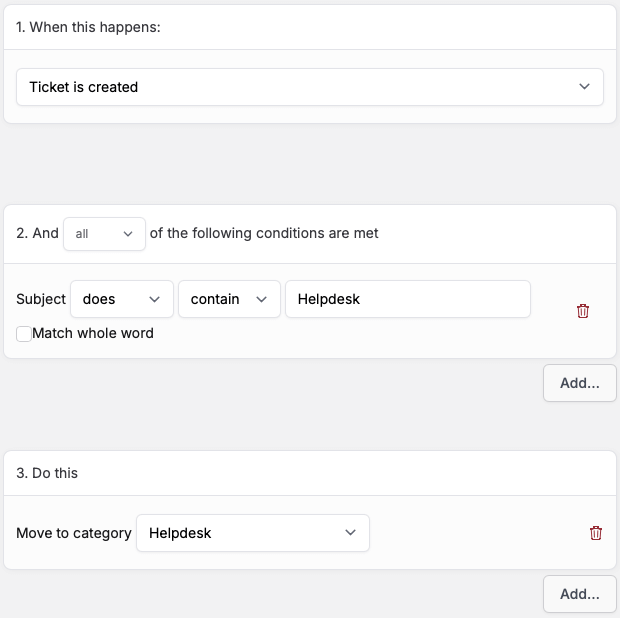 iOS & Android
Jitbit Helpdesk comes bundled with free iOS and Android mobile apps. They are incredibly fast even on the slowest connections, have the needed set of features and, as Helpdesk itself, very well designed.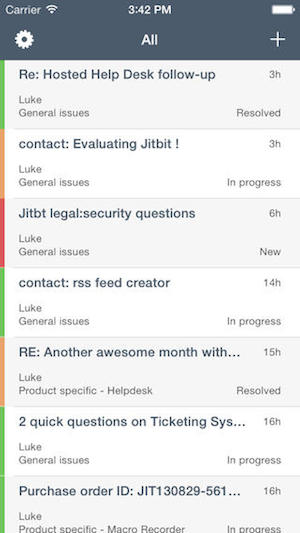 Both me and my co-founder have techsupport background. And I'm so proud of the work we've done on our latest version. Amazing new UI, improved reporting, performance, outstanding email integration etc. I use this help desk app every day to answer our own support tickets.
— Alex, founder and CEO
Web based help desk
So, you've ended up on a "yet another web-based help desk software" page. We will save you some time and point out the key reasons why our helpdesk is different:
Unlimited - we are not priced "per agent" or "per user". Same price for any number of helpdesk agents.
Full-blown - Jitbit Helpdesk has everything a web based help desk software needs: 2-way email-integration, easy user-interface, file-attachments, asset-management etc. You'll find the detailed features list below.
Hosted or self-hosted - we offer both "hosted" and "on-premise" versions of our web-based helpdesk ticketing system. This page describes the downloadable version (i.e. "on-premise"), but we also offer a Hosted Helpdesk Software service (SaaS).
Try it now
If you want to try our help desk software, you can:
Rated:
Why Jitbit?
Extremely cheap support software and all contracts include free upgrades within one year and discounted upgrades afterwards.
Email integration - instantly turns emails into help desk tickets, and sends out automatic email notifications to both users and support engineers.
Integrates into your website - generates a support-widget for your web pages. Just copy-paste two lines of javascript to your webpage and thats it - you have a support form on it.
FREE evaluation version has no expiration (download and test as long as you need)
Unlimited - similar web-based software is priced $100-200 "per seat", while Jitbit is unlimited.
Extremely Easy for both users and techsupport-agents. Takes seconds to setup (run the installer and start working in seconds).
Reliable - most advanced technical platform: Microsoft ASP.NET and MS SQL Server
Helpdesk ticketing system - Key Features
Web-based - accessible from anywhere with just a browser, works on smartphones and touch devices.
File attachments - post documents, screenshots and PDFs.
Asset management - track your assets, assign it to your users
Knowledge base and Reports with an option to export to Excel
Secure - different user roles and security permissions (technicians can be assigned to different areas, no customer sees someone else's data, etc)
Flexible - possible Windows-integrated authentication - integrate our support software with your existing Active Directory users catalog
Multilingual - Help Desk is easily localizable to other locales and languages using ASP.NET resources.
English, German, Norwegian, Danish, Dutch, Swedish, French, Italian, Spanish, Portuguese, Russian, Hebrew, Arabic, Hindi languages are included.
Source codes - C# source codes available for developers
How does the ticket system work?
A customer submits a request to Jitbit HelpDesk ticketing system (using the web-interface or by sending an email to "[email protected]").
Support people, responsible for the ticket category (for example, email-engineer for email-related issues, or webmaster for website-related tickets etc) are notified of the new issue, and "take" it (or assigned by the administrator).
Jitbit HelpDesk includes an integrated discussion forum for every ticket, where customers and technicians post updates and interact with each other.
After an issue is closed, it can be published to a knowledge base.
This support software tracks and handles your customers' tickets and saves your technicians' time.
Ticketing System Requirements
Any ASP.NET-compatible web hosting with MS SQL database support
OR: Windows 2000 or higher, MS IIS, ASP.NET 2.0, MS SQL Server 2005 and higher (all versions supported including the free editions - SQL Server Express).
View inline help