A Simple Support Ticket System
With Jitbit's support ticket software you can easily see which tickets require immediate attention, which ones are waiting for the customers to write back, which requests require input, and which need to be assigned, marked or resolved

Automate your Support Ticket System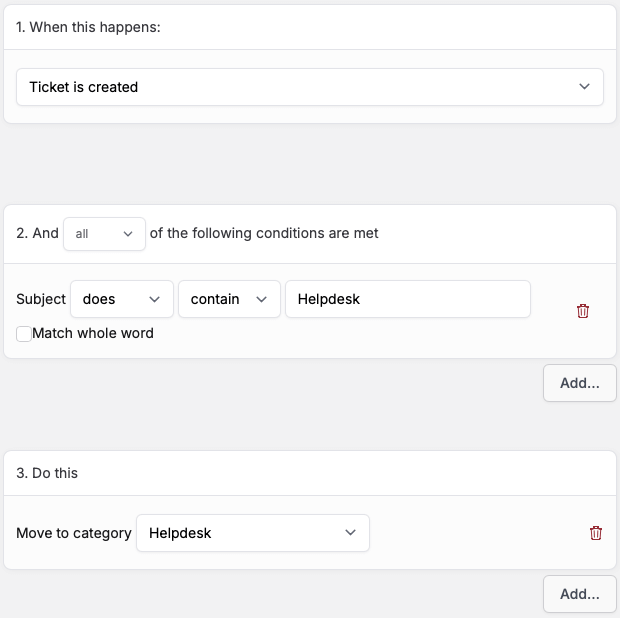 Our support ticket system comes with a powerful automation engine, which does the work for you. Send out common replies, automatically prioritize, assign or move incoming tickets based on which client there are coming from, send followups, set up reminders for your team, etc. etc. Focus on what's really important, not the repetitive stuff!
Mobile apps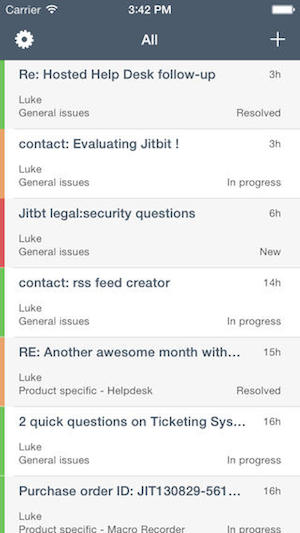 Our tool comes bundled with handy free apps for Android and iOS so your support team can answer tickets on the go even using a poor Internet connection. Search, assign, close, reply, attach files to tickets and get an instant notification when a new support request arrives. Alternatively you can use your mobile browser and simply log in to the web-app on whatever device you have.
Ticketing reports: Know how are you doing

Using our powerful reports: find out how fast do you respond, who's your best helpdesk agent and who's your most nagging customer, how much time you spend on the support tickets each day. Or - build your own custom reports. And - have them sent to your mailbox every Monday.
Keeping things simple
Online Support ticket system technology has revolutionized how we deal with customer service. These incredibly powerful, yet simple to use, programs have made it possible to offer every single person or organisation that contacts us feel that they are receiving the very best service possible. It is now almost impossible to lose an email or misplace a contact detail. That's the kind of strategy that get's things done.
Every ticket has multiple "asignees" but only one owner
A support rep needs some help from system administrator or a developer? No problem - you can assign support tickets to multiple "technicians" (a unique Jitbit's feature). But a ticket still has only one "owner" - main assignee, so you know who's responsible for it.
Instantly turn emails into tickets
You can use our own default email service (provided with the hosted version), or connect your existing support mailbox in seconds (using POP, IMAP or Exchange).You can map different email addresses to different ticket-categories or even brand your emails differently depending on the category.
Further reading: help desk ticket system, support ticket software.
Last updated: 5/23/2017 more Helpdesk Ticketing System whitepapers