SLA and Automation Rules

We have recently launched a new cool feature in our help desk software app - Automation macros. Use these "rules" to perform automatic actions on a set of tickets that meet a specific condition. For example: when a ticket arrives and its subject contains some text - route this ticket to a specific category. Or - if a ticket has not been updated for 3 hours - send a reminder-note to administrator.
Rules are commonly used for:
SLA (service level agrrement)
Escalation
Staff notification, customer nofication
Helpdesk Workflow management
Auto-responding - in case a ticket contains a common question. Or - asking the user to provide more details
Automation rules can do up to 40% work for you.
Rules creation
To create an "automation rule" simply go to Admin - Automation rules and click the "new rule" button. You're presented with a rule editing dialog with three areas: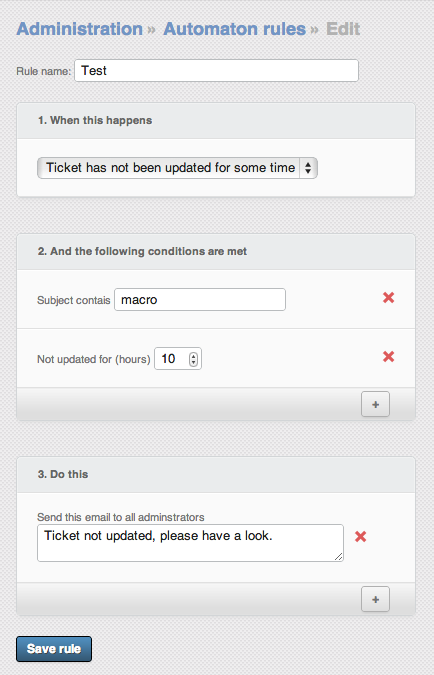 When - describes WHEN this rule will be launched - when a ticket is being submitted to the helpdesk app, when it's being closed, when it becomes overdue etc.
What conditions should be met - what other "conditions" should be met? For example: ticket priority is "High". Or - ticket contains some text in the subject. Etc
What should be done - add one or more "actions" here. For example: a ticket should be moved to category, priority has to be changed etc.
more Hosted Help Desk whitepapers