iPhone Helpdesk
We think it's pretty true to say that any business that has dealings with people on any level would benefit from a hosted helpdesk application. Yeah, you can do things the old fashioned way through telephone and email, but unless you have protocols in place that are as reliable as clockwork mistakes will be made and people will get lost in the system. Choosing a helpdesk allows every raised issue from first contact to resolution to be tracked and monitored.
But what if you or your support team tend to be out of the office more than you're in it? Then you need an app that is as effective on your personal iPhone as your office desktop or laptop – and that is why Jitbit's iPhone helpdesk is for you.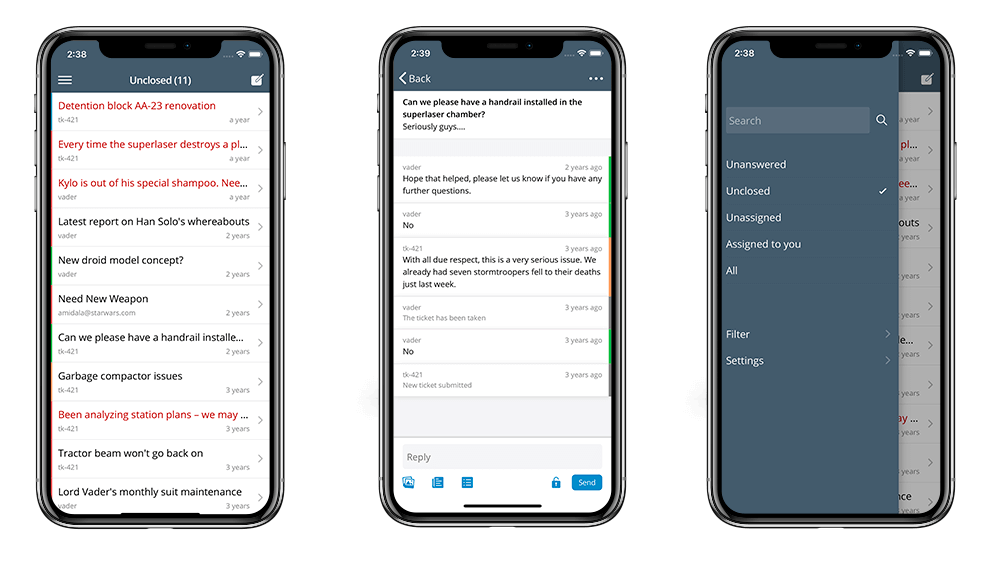 Super Fast iPhone Helpdesk app
When we developed our hosted helpdesk we knew we wanted it to be lighting fast to benefit from the speed of modern processors and limit frustration in an area of your business that is often quite trying, to say the least! To that end we are constantly tweaking and streamlining the code the allow for smoother interactions. We have made our iPhone version of the software so fast you barely have time to blink. We think it's also incredibly user friendly with a UI designed for functionality (as well as looking damn cool!). Any app for a mobile device has to be easy to navigate and you will find it possible to use your iPhone helpdesk whilst multi-tasking in meetings or standing in line for a coffee – and that kind of 'right on the button' service is exactly what sets you out from the crowd and grows your company a reputation for delivering top class service.

iPhone app features:
Viewing unanswered, unclosed or all tickets
Viewing basic details and replies of an individual tickets
Posting replies publicly and "for techs only"
Changing tickets status
Viewing attached images
Always Improving
What we find exciting is that our iPhone app is already a highly useful tool, but it will only get better. We're developing it all the time and plan to add features in later upgrades to make it every bit as powerful as our desktop helpdesks. Currently available on iOS 5 or higher it will work perfectly with both our hosted and self-hosting versions of the software.
Last updated: 4/14/2017 more Hosted Help Desk whitepapers