ITIL Service Desk Software
Looking for an ITIL Compatible IT Service Desk software? You've come to the right place.
An overview of the ITIL process
As per the ITIL specification, you have to provide your users with a single point of contact for all their communications with your IT department - a service desk. The daily activities of service desk personnel include the following:
Incident logging
Identification
Categorization
Prioritization
Initial diagnosis
Communication with the user
Incident resolution and closure
Escalation to higher levels, if necessary
Jitbit Helpdesk provides you with all those features (and much more) which make it a very capable ITIL-compatible ticketing system. Let's take a look at it in more details.
Incident logging
Jitbit provides your users with multiple ways to log an incident or a request.
The most basic way is to submit a request via email. You can connect your support mailbox directly to Jitbit so that each message sent to that mailbox will be converted into a ticket or added as a reply to an existing ticket. The setup process is very simple, and you only need to do that once. Jitbit will check your mailbox regularly and import new messages.
Another way to submit an incident is via the web portal inside of Jitbit itself. Your users can have access to a customizable "new ticket" form that they can use to submit a new request with additional details and rich formatting. After that, they can use the same portal to see their ticket and communicate with the service desk personnel.
Other ways include using Jitbit API to log incidents from a different source, like a form on another website, Jitbit Widgets that you can install on your websites or one of our integrations with third-party apps.
It is worth noting that users can use our free mobile app for iOS and Android to log incidents.
Identification, categorization, and prioritization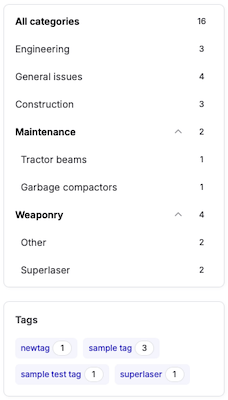 Categories is a core feature of Jitbit. It's an incredibly powerful and flexible way to categorize ITIL instances. You can create separate categories for each type of requests you receive. Then you can even assign different groups of agents to be able to handle tickets in their respective categories. Also, categories can have their own sets of custom fields, fields for additional relevant information, and custom statuses, in case you have different resolution flows for different kinds of instances.
You can also assign one of the four priorities - low, normal, high and critical. Your incidents in the incident-list will be color coded according to their priority to make your job easier. You can also use filters to show, dor instance, only critical requests.
Another feature that will help you with categorization and prioritization is Automation Rules. Automation Rules were designed to automate the most routine parts of your job. To give you a very basic example you can do things like "If incident subject contains the word 'printer' move it to the 'printers' category." This way half of the categorization is done for you automatically. You can do much more with Automation Rules, and every company will find a way to use them and be more effective in incident resolution.
Initial diagnosis
One Jitbit feature that will help you with initial incident diagnosis is the Knowledge Base. You can save articles, how-to's, manuals, etc. to the Knowledge Base. You can make these articles "public" for your users or "private" for internal use of IT personnel. We even go one step further to suggest relevant Knowledge Base articles to agents when they are viewing incidents (and to the end-user when they create new tickets). There is also an ability to paste a KB article into your reply to a user with a couple of clicks.
Communication with users
Throughout the life of an incident, you can communicate with users via email right from Jitbit. Each reply you write in helpdesk will be delivered to the user via an email notification. For the end-user it will look like the communication is done with regular email messages without any third-party app involved. So there is no additional learning curve for your users.
If they want, users can also communicate with IT personnel using the web interface. In this case, they can see all the previous communication arranged chronologically in the incident activity feed.
Incident resolution and closure
When you are ready to close an incident, you can just click the "close" button. You can also enable the setting that will send a notification to the end-user when their ticket is closed. If you need to provide a user with the resolution result, you can do that in a single click by writing a reply and hitting the "reply & close" button.
Escalation to higher levels
If it is necessary to escalate an incident from the first service desk level to the second, there are two ways to do that.
The easiest one is to just change the incident assignee to a different agent. The assigned agent will receive an email notification that they now handle the incident and can start working on it. You can also add him/her as a "secondary assignee" - our app is one of the few that enable multiple agents to be assigned to a ticket.
If you want a more sophisticated approach, you can create separate categories for the second support level. You will get all the added category bonuses - a different group of agents, custom fields, statuses, etc. To escalate an incident the first level technician will just need to change the ticket incident category to the second category. After that, they will be unassigned from the incident, and it will be up to the second-level personnel to handle it.
As you can see, Jitbit complies with all the ITIL requirements for a service desk. In this article we've described only very basic features - there are much more to it than that.
Automation rules are incredibly powerful. You can use them to set up things like SLAs, automatic escalation and more. Whatever your business processes are they can be automated with Rules to an extent.
You will also get a fully-featured Asset Management module - a feature that is unique to our help desk solution. You can assign assets to incidents, users and companies. You can also add custom fields to your assets and attach files to them such as various documentation.
Jitbit also comes with rich reporting capabilities. Most of the reports have an ability to export to Excel if you want to work on your data even further.
And that's not all. We'd love it if you gave Jitbit a try.
Continued: Service Desk Ticketing System...
Last updated: 12/16/2018 more Helpdesk Ticketing System whitepapers