Helpdesk Ticketing System
Ticketing software for your support team. Tracks customer requests, fully integrates with your mailbox. This is the "on-premises" version. We also have the SaaS one.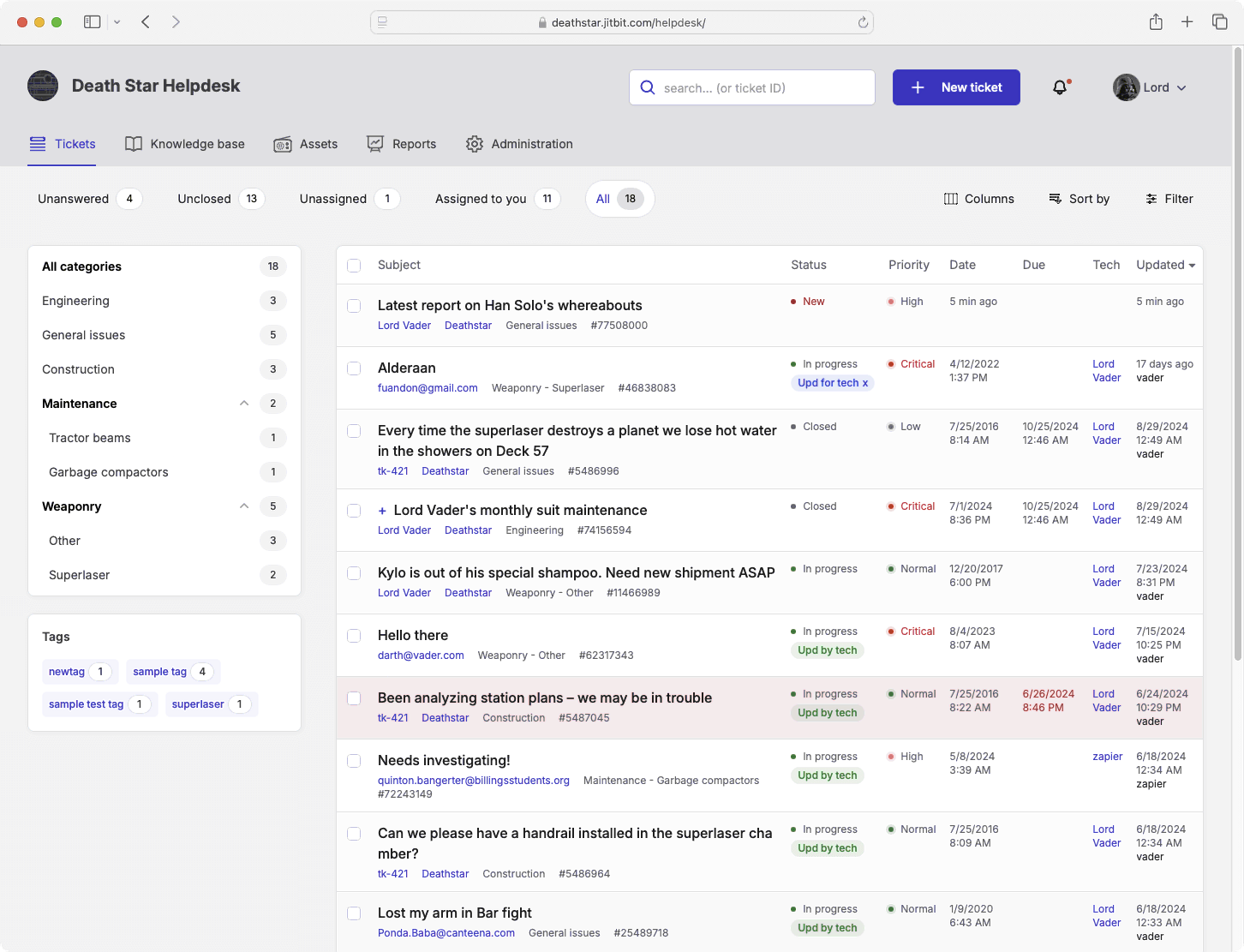 Email Ticketing System
POP3/IMAP/Exchange/SMTP
We have all the bells and whistles, but our primary focus is two-way email ticketing. Our help desk app instantly turns incoming emails into trouble tickets, and sends out automatic email notifications to both users and agents. More on emails...
Painless ticket management
We know how you feel
"Who is this customer? What's their company name again? Haven't we already answered that? Who's handling this email?" Spend less time figuring that out and never be annoyed by another support email again.
Built by former sysadmins
Founders & devs with helpdesk background
Everyone on the team has some customer support background. Answering tickets, helping clients, patching cables, fixing servers & dealing with overpaid consultants... We know what it's like.
SaaS version available
Cloud-hosted, no hardware headaches
We offer a SaaS help desk application too. Save yourself from hardware headaches and installation procedures, leave that to us. Our cloud servers are run by AWS, secured and fine-tuned by our best engineers.
Incident tracking
With all the "must-have's"
Assign agents to different areas. Manage ticket permissions. Track your assets and SLA's. Attach documents, screenshots, PDFs, live chat with customers or even record a short video right from your browser. Maintain a knowledge-base. Tag and categorize tickets. All powered by the most advanced technical platform - MS SQL Server and ASP.NET.
Plugs into your IT systems
SAML, Active Directory, API
Optional Windows-integrated authentication easily connects Jitbit helpdesk ticketing system with your existing Active Directory users catalog. You can also connect to MS Exchange via EWS or IMAP, integrate with JIRA issue tracker or GitHub and many other apps
---
What is a help desk ticketing system?
IT ticketing system is a software app, that converts all incoming tech support requests into tickets and stores them in one central database for later management. Requests come in via email, live chat, text-messages, phone calls - all go into the same storage, where help desk agents can add their responses and keep track of tickets.
Jitbit is an affordable, fast, lightweight and good-looking Ticketing System for your customer support team.
All tickets at a glance
The main screen of the help desk software features a powerful grid showing all the information on your current tickets. You can easily sort and filter the requests, review the current statistics and even perform "bulk" operations without leaving the page. For example, assign multiple tickets to agents, merge, close, delete tickets or even post a reply to multiple tickets at once. Different queues let you switch between "all", "in progress" and "unanswered" tickets. In addition, you can switch to the "assigned to me" tickets, requests from a specific company, a specific customer etc.
Whether you're a tech support "agent", an "administrator" or a "manager", the grid easily adjusts to your current needs. This is the screen you're gonna be looking at for the most part of your workday, so we've literally spent years polishing it.
The ticket list updates in real-time. You don't ever need to refresh the page - the data is always up to date, showing convenient popups as new tickets arrive.
Everything you need to manage your customer service. All at your fingertips.
Everything is neatly organized
When you click an individual ticket, you see all the case details on a single page. The entire conversation, attachments, private messages and any other activity. You no longer need to dig through your support mailbox trying to find "that email we received from this customer a week ago".
Tons of features - but hidden until you need them
We know how hard it is to deal with hundreds of tickets every day. That's why we created a help desk tool that simplifies the process rather than making it more complicated.
It's designed to seamlessly integrate into your business's service desk or a call center. And offer all of those essential help desk features you'll soon come to rely on.
Our IT ticketing software provides two-way email integration, file attachments, powerful ticket search, a Knowledge Base and so much more.
But the best part is – if you don't need a particular feature, you probably won't even see it. It won't get in your way until your actually need it.
Categories & Tags
A typical helpdesk agent's workday involves a lot more than just writing replies to customers. We need to move tickets around, merge and link them together, glance at the "previous tickets from this company", search for similar tickets etc. We probably spend half of our day doing all those things.
Support tickets are being assigned to "categories" - that's the main feature to help you organize things up a little. You can classify tickets into categories manually, make customers choose a category during the ticket creation or do this automatically via Automation Rules (see below) and email engine settings. Categories provide many additional benefits - you can assign categories to specific team members, build reports using only the tickets you need, easily search for tickets and more
You can also add tags to your tickets, using tags in addition to categories to fine tune your layout even more. A ticket can even have multiple tags assigned to it. A good example is a "feature request" tag to easily find all the ongoing feature requests.
Helpdesk Reports
Our Reports make it easy to keep an eye on your IT-team performance. Jitbit has a set of built-in reports that will give you the insight you need to develop and improve your customer service. And the "custom report" tool that lets you quickly build your own reports.
Automation Rules
Always writing the same old responses to the same old queries? Bored of the repetitive parts of the job? Jitbit's Automation Rules (very popular among our power users) can deal with some of that everyday stuff for you.
Our powerful, built-in "if this, do that" module helps you automate a heap of boring tasks and send SLA alerts. Save time for those customer queries that require a personal touch.
iOS & Android
Jitbit Helpdesk comes bundled with free iOS and Android mobile ticketing apps. They are incredibly fast even on slow connections and come with all those great help desk features. And, just like the desktop version, they're incredibly well designed.
So as long as you have your smartphone or tablet at hand, you can provide the best customer support wherever you find yourself.
Knowledge-base & web-portal for end-users
Help your customers find answers they need with our searchable FAQ and Knowledge Base with built in analytics. Customers can also access the self-service web portal and track their tickets, submit new requests or chat with a help desk agent. All the ITSM best practices.
Create a seamless experience for your customers with web portal customization. Add your logo, favicon or custom CSS and HTML. Additionally track visits with Google Analytics (or any other JavaScript tracking).
Both me and my co-founder have years of tech-support background. And I'm so proud of the work we've done on our latest version. Amazing new UI, improved reporting, performance, outstanding email integration etc. We see new customers switching from Zendesk, Freshdesk, Happyfox and other tools - every day.
— Alex, founder and CEO
Support ticket lifecycle
Here's how Jitbit's support ticket system tracks and handles your customers' requests and saves your technicians' time:
A customer creates a ticket using the self-service portal, the live-chat widget on your website or by sending an email to a support mailbox.

Support agents responsible for the ticket category are notified of the new issue and "take" or are "assigned to" the ticket.

Jitbit Helpdesk includes an integrated message board for every ticket. Here customers and technicians can post updates and interact with each other via email or the web app privately or publicly.

Once the issue is resolved it can be further published to the help desk Knowledge Base, leaving a record of useful information for future customers.
Listed in "10 Best Help Desk solutions of 2020"
We know, "yet another help desk software". We'll save you some time and point out the key reasons why Jitbit offers something different to the rest:
Rated as #7 solution in "20 Best Help Desks" by Finances Online
Trusted by thousands of customers
Affordable - lowest possible price on the market.
Full-blown - Jitbit has everything you'd expect from a ticketing app. That means two-way email integration, a user-friendly interface, file attachments, ticket management, asset management, live chat. Here's a detailed features list.
Hosted or self-hosted - the majority of our customers choose the "SaaS" version, but many IT departments prefer having an "on-premises" version running on their servers.
Trial versions
Try our help desk:
Why Jitbit?
Extremely affordable and all plans include free upgrades within one year and discounted upgrades afterwards.
Email integration - instantly turns emails into help desk tickets, and sends out automatic email notifications to both users and support engineers.
Integrates into your website - generates a support-widget for your web pages. Just copy-paste two lines of JavaScript to your webpage and that's it - you now have a support form with a live chat.
FREE trial version has no expiration (download and test as long as you need)
Unlimited - similar web-based software is priced $100-200 "per seat", while Jitbit is unlimited.
Extremely Easy for both end-users and help desk agents. Takes seconds to setup (run the installer and start working in seconds).
Reliable - most advanced technical platform: Microsoft ASP.NET and MS SQL Server
Key Features
Case management - organize and categorize incoming requests
Web-based - accessible from anywhere with just a browser, works on smartphones and touch devices.
File attachments - post documents, screenshots and PDFs.
Asset management - track your assets, assign them to your users
Knowledge base and Reports with an option to export to Excel
Secure - different user roles and security permissions (team members can be assigned to different areas, no customer can see someone else's data, etc)
Flexible - possible Windows-integrated authentication - integrate the IT-ticketing system with your existing Active Directory users catalog
Multilingual - Help Desk has been translated to 25 different languages including: English, Arabic, Chinese, Croatian, Czech, Danish, Dutch, Estonian, Finnish, French, German, Hebrew, Hungarian, Hindi, Italian, Latvian, Lithuanian, Norwegian, Portuguese, Slovakian, Slovenian, Spanish, Swedish, Turkish etc.
Source codes - C# source codes available for developers
View the end-user manual and the installation docs for admins